Longarm quilting services
I love helping my customers finish their quilts.
Julie McClannan
I am Julie, a professional longarm quilter. I use my APQS Millennium to do freehand quilting and computerized quilting. I have had my business ever since retiring from 23 years of teaching third grade. That was in 2009, but I have been quilting for over twenty years. I love working with fabric and thread and truly enjoy the long arm quilting process.
I love quilts and quilting so when a customer brings a quilt to me I treat that quilt with care as if it were my very own. Any questions or concerns are addressed before the quilting process. I make every effort to return the quilt to the owner on or before the promised date. I am blessed to be able to work at what I love.
Click here to read an article written by APQS about my business.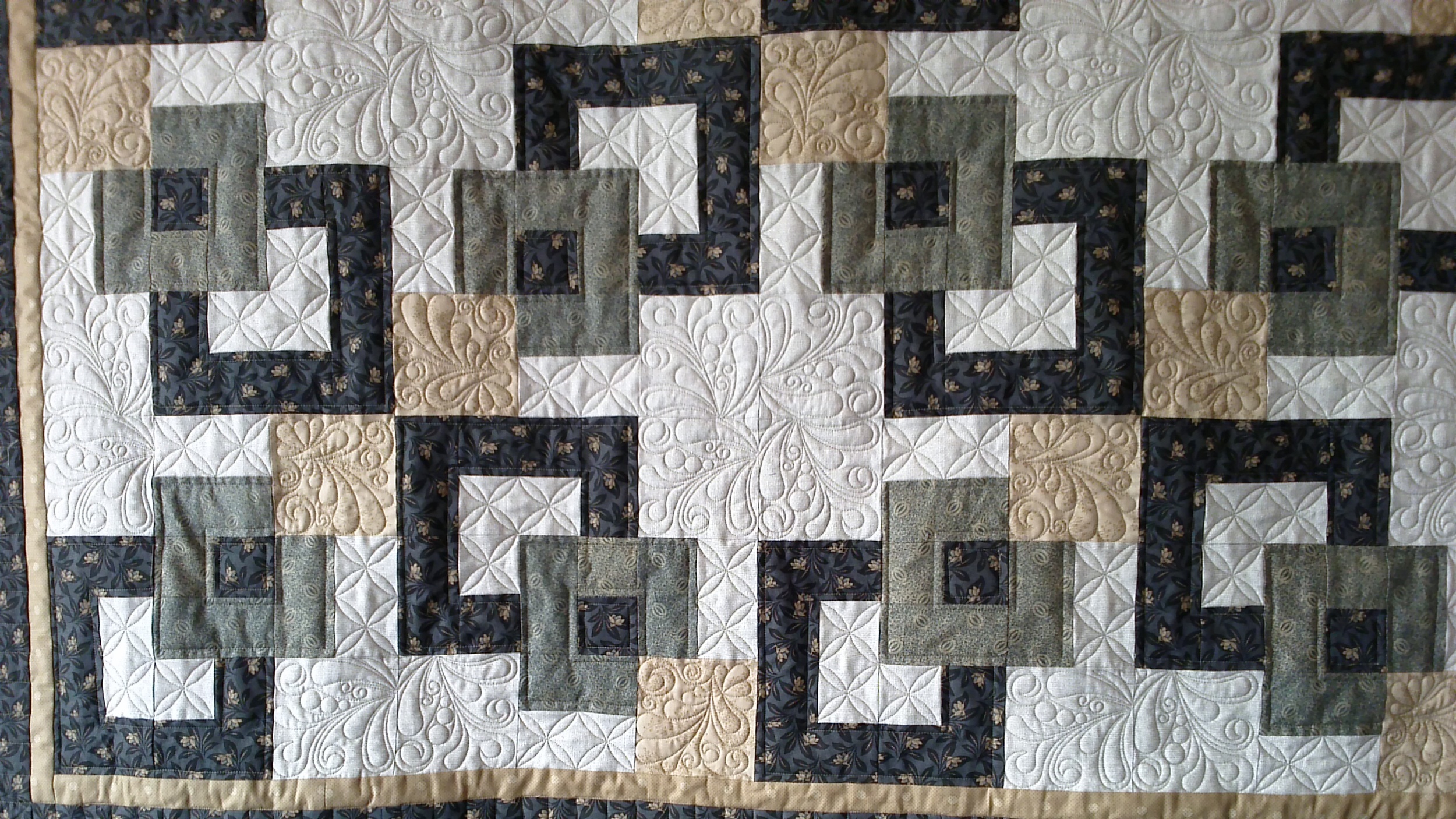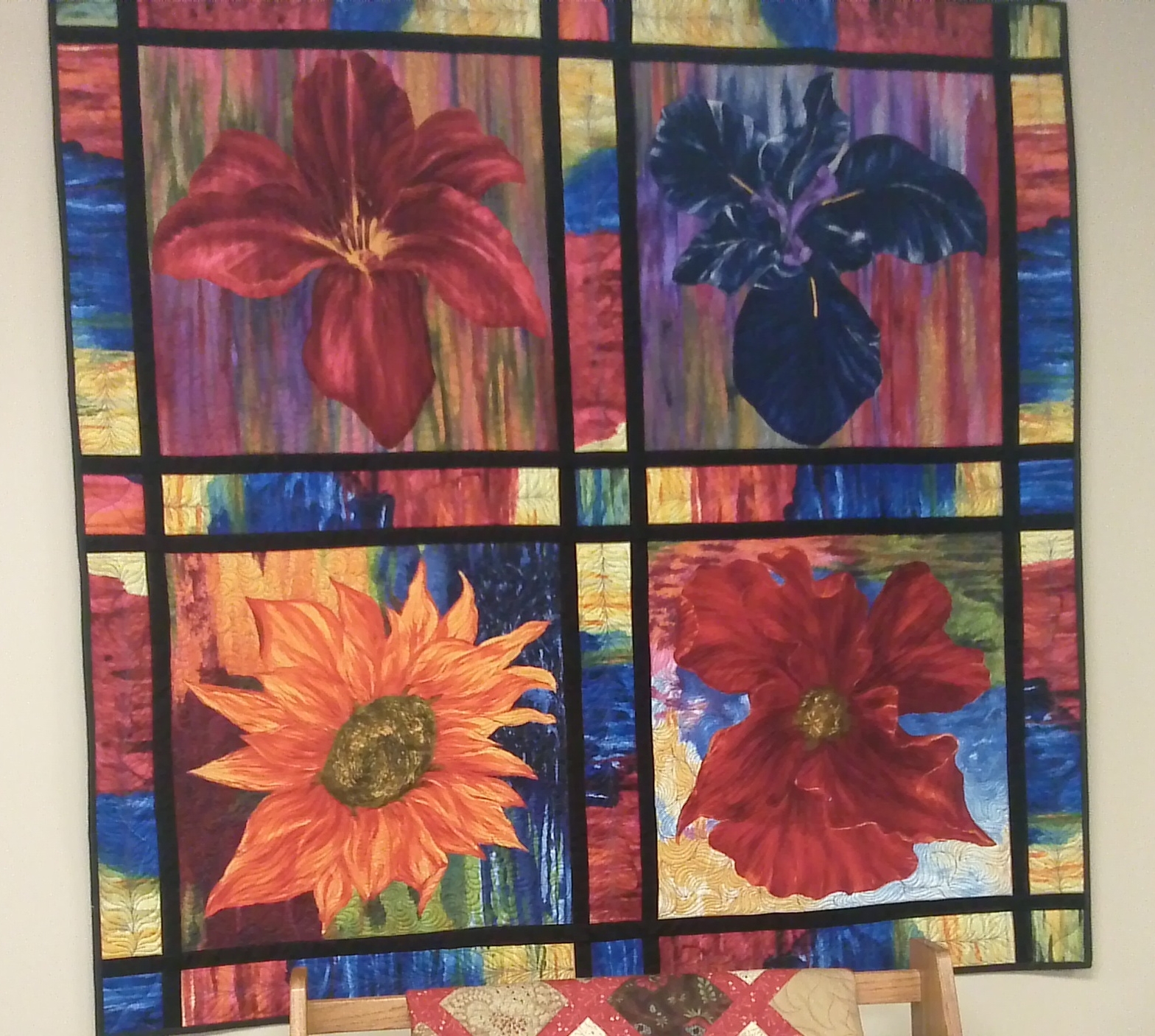 Accuracy while creating your quilt top is the single most important issue to ensure the best results for machine quilting. The elements of the quilt (top, batting and backing) are secured to three rails which are exactly parallel to one another in addition to side clamps to stabilize the backing. For this reason, the top and backing must be square to ensure a satisfactory outcome.
Using fine, strong thread for piecing insures accurate seam allowances, as well as pressing (I love Best Press Clear Starch Alternative)
Borders that are not properly measured and applied may appear wavy (slightly too long), or pinched (slightly too short). In either case, quilting will not fix it. For accurate borders, measure your quilt in three places along the length - add these three measurements and divide by 3 to get the average. This is the length you should cut your side borders. Mark the center of the quilt side, and the center of the border - line up at center point and pin every few inches along the whole length of the border, easing as necessary so the ends line up. Repeat the process for the top and bottom borders (now you are including the side borders in your measurements).
Backing should measure at least 4" larger than quilt top on all four sides..
Backing fabric should be 100% cotton, seamed if necessary, squared and pressed with seam allowances pressed open. When choosing backing fabric, think about color and contrast in relation to the quilt top, and try to choose something that coordinates or is similar - this provides the best results when choosing thread color and type for the top and bottom - the closer, the better.
If your backing is a very dark fabric, please consider a black or gray batting. Longarm machines require the use of very large needles, and even with the sharpest needle in the world, some batting may poke through to the back. To avoid white dots here and there showing through on your backing fabric, a dark batt may be just the answer.
(Tip: Torn versus cut edges - tearing the fabric for borders and backing can create a couple of problems - it can damage and distort the edge, and the raveling threads can interfere with the rollers and movement of the machine. However, with wide backing fabrics, tearing to square the backing is the method I prefer - please be sure that your cut yardage will allow for squaring by tearing.
Press quilt top and backing fabric well and trim all threads.
Pricing
There is a minimum charge of $35.00 regardless of the design choice. All prices include batting and thread. I carry white cotton batting as well as cotton blend batting in black and white.
Edge to edge designs begin at $.02 per square inch. The more dense designs cost slightly more.
Custom quilting begins at $.03 per square inch and the charge increases with the density of design.
To estimate the price of quilting you will measure the width and length of your quilt top. If your quilt is 72 inches wide and 84 inches long you would do the following:
72x84=6048 square inches. Then multiply by .02. 6048x.02=$120.96
If you mail your quilt top and back to me the USPS return shipping charge will be added to your invoice.
PHONE
(402) 201-4906
EMAIL
jmcclannan@yahoo.com
LOCATION
10067 Centennial Road
La Vista, NE, 68128
HOURS
Call for Availability